Loyal readers, my utmost and deepest apologies for my second extended blogging hiatus of the 2009 calendar year. Over the past month, your sports literature has surely been lacking of a certain sass, and for that I am sorry. But now, in light of some much needed free time, as well as a flood of complaints from A-Rondo the Horn regulars who sadly have been deprived of reading material at work of late, I hereby announce my triumphant return. From now on -- as dictated by my New Year's resolution -- you can expect a steady, unwavering dosage of analysis, opinions, and of course, sass. I have but one stipulation: no Tiger Woods. None. I don't want to talk about him. And you can't make me. The level to which this story has been beaten to death by the obsessive media is nothing short of staggering, albeit not surprising. Therefore, I will be taking the high road, no matter how many times Tiger graces the cover of "Vanity Fair"
doing his best inmate impersonation
. If you were expecting otherwise, too bad. It's my blog and I'll do what I want. If you are seeking a humorous yet informative take on the Tiger situation, check out Bill Simmons' column, "
The Tiger Zoo
." As for me, until Woods is golfing in a major tournament again, he no longer falls within the purview of this humble blogger, starting...now. Moving on.
At a mere cursory glance, a wellspring of excitement and intrigue lies ahead in the not-too-distant future that should pique the interest of the die hard and casual sports fan alike, with yours truly offering his insights and interminable rants at every step along the way. Moreover, several other
College Football Extravaganza-esque
road trips are currently in the works, of which you will of course be provided with every ensuing gory detail that I deem worthy. Among the trips being planned: Syracuse for a college hoops game, Boston for a Bruins game, Boston again for a Celtics game, Boston
again
for a Beer Festival (which has nothing to do with sports, but has a 100% possibility of debauchery and hilarity, and therefore merits being captured in prose) and Columbus for an Ohio State football game in the fall. The logistics are uncertain, but the potential for copious amounts of vicarious enjoyment undoubtedly abounds. Throw in my season ticket to UConn basketball home games and likely return trips to Ann Arbor and State College in the fall as well, and I can promise there will be no dearth of content here in the New Year. According to the Chinese calendar, 2009 was the
Year of the Ox
. However, I can assure you that 2010 is going to be the
Year of A-Rondo the Horn
. Be excited. So that said, as we kiss the aughts goodbye, here's a look ahead to what I am most eagerly anticipating in the upcoming year.
The NFL
Playoffs
As we stand on the cusp of the NFL Playoffs, there are several intriguing story lines that merit your attention. But before we take a look at the best ones, let's give it up to Mr. Don Cheadle to set the stage for the NFL Playoffs the way only he can. Take it away, Don.
Colts vs Patriots II - The Rematch/The Belichick Bowl
It is exceedingly possible -- nay, probable -- that the most fervent and relevant NFL rivalry of the past decade will log another chapter into its increasingly storied history during this postseason. But beyond that, this particular season adds a little
something extra to this already furiously bitter feud. Without question, the most debated, water-cooler moment of this NFL season was Bill Belichick's infamous 4th and 2 call in the Sunday night game against Indianapolis. This is not to say the season was bereft of other noteworthy or head scratching moments (just to name a few: Brett Favre's
hail mary to beat the 49ers
in week three, Vince Young's Elway-esque drive and
4th down touchdown pass
to Kenny Britt to defeat Arizona in week 12, Mike Wallace's
amazing toe-dragging catch
to beat the Packers in Heinz Field in week 15, or
any coaching decision made my Jim Zorn
), but nothing quite matched what followed in the wake of the events that took place on that fateful Sunday night in Lucas Oil Stadium. Everyone with a forum -- or even a pulse, for that matter (including myself) -- felt the need to dissect Belichick's puzzling decision, often times ad nauseum. For better or for worse, it became the dominant story line of the 2009 NFL season. But regardless, those unfortunate events only serve to make this impending showdown even more enticing. And should this rematch for the ages take place, let it be noted that despite having the upper hand on the Patriots of late, Peyton Manning is still 1-2 against New England in the postseason. If Manning were to fall once more to the hated Patriots, it could potentially mar his otherwise illustrious and historic career with an unmistakable stigma of disappointment, even despite his one Super Bowl ring (2006).
Meanwhile, Tom Brady resides on the precipice of all-time greatness. Should he capture a fourth Super Bowl victory this postseason (which unfortunately now seems unlikely after Wes Welker's devastating knee injury against the Texans in the final game of the regular season), he could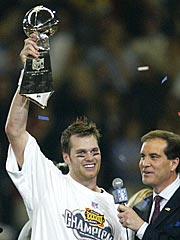 cement himself as the greatest postseason quarterback of all time. Already boasting three Super Bowl rings (2001, 2003, 2004) and a 14-3 career postseason record, another title would make it difficult for even the most impassioned contrarian to argue that there has ever been a better postseason performer in long and storied history of this great sport. And to establish such a legacy while taking down the loathed and highly favored Colts in the process would be all the sweeter. Suffice to say, the intrigue of this looming clash of gridiron titans -- and the two most successful teams of the decade -- should captivate even the most casual sports fan. In a related story, I am currently preparing a Peyton Manning voodoo doll and have already offered to sell my soul to the devil in exchange for the Pats defeating the Colts in the AFC Championship Game. But then again, I'm pretty sure that I already sold my soul in October of 2004 when the Red Sox trailed the Yankees three games to none in the ALCS (worth it). And probably once again prior to game seven of Celts/Hawks (opening round) and game seven of Celts/Cavs (Eastern semis) during the Celtics' 2008 playoff run. I think I'm running out of souls. Damn it all.
Packers vs Vikings III - The Re-rematch/Favrapalooza '10
:
Another entirely possible playoff scenario consists of Brett Favre suiting up in Viking purple and gold to take the field against the Green Bay Packers.
In the playoffs
. I'm just going to let that sink in for a minute. (Waiting). This game features a classic Master vs Apprentice showdown between Favre and his former backup (Aaron Rodgers), both of whom are Pro Bowl quarterbacks this year. The dichotomy between the ever visible and incessantly discussed Favre and the quiet, unassuming, yet tremendously talented Rodgers is quite striking, and makes for a fascinating match-up. But this potential showdown features far more than a battle of elite quarterbacks. This game has the potential to be so monumentally significant for Packer fans, Viking fans, and anyone with any kind of a stake
in the ongoing Brett Favre saga, that it will likely transcend a mere sporting event. Aside from Michael Vick, Brett Favre has been the most polarizing NFL figure in the latter half of this decade. He elicits the most passionate, deep seeded emotional reactions from sports fans and non-sports fans alike, and those reactions are amplified tenfold for fans of Green Bay and Minnesota (I'm going to leave the Jets out of this discussion, because they don't even deserve to be in the playoffs. There, I said it.). To that end, this game bears the possibility of being
too
important, of meaning
too
much. Entire states and fan bases will sway, groan, and scream along with every twist and turn of this game, should it take place. Packer fans who have sworn off any allegiance to their former hero will cheer with all the ferocity and zeal they can muster for Favre to feel the karmic backlash of his back-stabbing betrayal to his former team. A loss to their ex-hero adorning enemy colors for the third time in this otherwise successful season (in the playoffs, no less) would leave them nothing short of crestfallen; the kind of loss that players and fans forever feel the sting as time wears on (see: Super Bowl XLII for Pats fans). Meanwhile, long suffering Viking fans -- desperate for the Super Bowl victory that has forever eluded their traditionally successful franchise -- pray that Favre can be the savior to finally lead this team into the promise land. After seeing greats along the likes of Fran Tarkenton, Warren Moon, Randall Cunningham, and the Culpepper/Carter/Moss trio come and go with nary a championship, this organization and its fans are itching for a taste of the ultimate prize of the National Football League. And after establishing themselves as a dominant, championship-caliber team throughout this season, anything short of hoisting the Lombardi Trophy will be a monumental failure in the Twin Cities. All the while, throughout the country, anyone with an opinion on Brett Favre's annual offseason soap opera will surely tune in and vehemently root either for or against him -- there will be no neutral parties, should this game take place. I offer but one word of advice: just remember to breathe. It is only a football game, after all. But don't bother telling that to anyone in Green Bay or Minnesota. To them, this is much, much more.
Note: Having expressed my unbridled excitement for these two potential match-ups, I can say with relative certainty that there is a 99.999% chance of these games not happening, such as my luck and prior record dictates. But at least it gave me some good material.
College Football
Don't Worry, Be Happy
With regard to college football, it is exceedingly easy to be negative this time of year. As the final minutes and hours melt away before the National Championship (Thursday, 8:00pm - ABC), the focus tends to be on what could have been, rather than what has actually taken place. Say what you want about the BCS. Go ahead and complain that TCU and Boise State were forced to face each other -- for the second year in a row -- instead of being granted the opportunity to prove themselves on a national scale against one of the "big boys" from a BCS conference. Gripe all you want that teams like Texas front-load their schedules with non-conference cupcake opponents and ride the wave of one-sided beat downs all the way to a National Championship birth. You can argue that there are too many bowl games, resulting in some rather pedestrain match-ups (see: Marshall vs Ohio). But all that aside, this national title game between Texas and Alabama should be a dandy, so let's just appreciate it for what it is, shall we? This game will be the closing act for a strangely uneventful college football campaign. Well, relatively speaking, that is, considering that this season came on the heels of two wildly tumultuous seasons in which no one wanted to stay atop the polls for any extended period of time. But if even Ragin' Rubin himself, the quintessential pessimist, can
shed a positive light
on this college football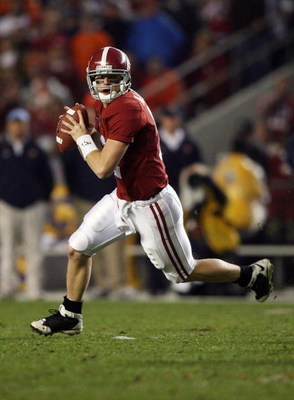 season, so surely can you. Despite the relatively unexciting 2009 regular season, we are blessed with a title game that features two of the most storied, tradition-laden programs in college football history, a Heisman Trophy winner (Alabama's Mark Ingram), a Heisman Trophy runner-up (Texas' Colt McCoy), two of the preeminent coaches in the college game (Mack Brown and Nick Saban), two ball-hawking defenses, two explosive offenses full of dynamic playmakers, the all-time winningest quarterback in college football history (McCoy), a quarterback who hasn't lost a game as a starter since
middle school
(Alabama's Greg McElroy), and two furiously passionate fan bases. Could you really ask for much more? Well, besides a playoff. That sure would be great, wouldn't it? But, I digress. That is another argument for another day. The BCS is what it is, and it's all we've got -- so enjoy it for what it is.
My pick:
Texas 27 Bama 24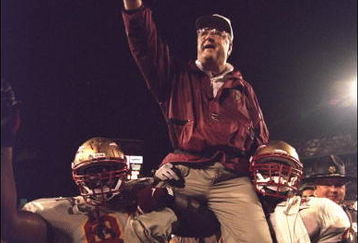 Additionally, I would like to point out how happy I was to see the legendary Bobby Bowden step away from the game in the only acceptable manner for a man of his pedigree -- with a win. In a season that was shrouded with mediocrity and whispers of him being coerced into retirement, the 33-21 triumph of West Virginia in the Gator Bowl was a fitting way to end his historic career. Fare thee well, Bobby, may life after football serve you well. You will be missed, dad-gummit.
Now, to brighten the somber mood I have just created, here is a memorizing video of college football's most memorable moments over the course of the past decade. I could literally watch this over, and over, and over. Enjoy.
The NHL
[Skating] in a Winter Wonderland
That's right, you better believe I'm going to fit some puck love into this column. And what better time to pimp this glorious sport than after the wildly successful Winter Classic this past weekend? The sight of the Bruins and Flyers clashing on the hallowed grounds of historic
Fenway Park is an image I won't soon forget. Not to mention the captivating, transcendent moment when Bobby Orr himself skated out onto the ice during the pregame ceremonies. Even though I never personally witnessed the greatness of Bobby Orr, I am still well aware of his significance and the level of reverence he garners from hockey fans all over the world (a vintage, authentic #4 Bobby Orr sweater currently serves as a curtain in my living room. I wish I was kidding). He is and forever shall be an iconic figure in Boston sports. But his greatness is not limited to the Beantown sports scene. Orr is the greatest blue-liner ever to lace 'em up, is one of the three greatest hockey players of all time, and he is a respected ambassador of the sport. The instant he
took to the Fenway ice
, I was covered with goosebumps I feared would never leave and felt a chill I was sure would never subside. Simply a breathtaking moment that set the stage for a perfect day of hockey, and one of the most stirring moments ever to grace 4 Yawkee Way (which is saying something). And what a day it was. With the magical sightlines of Fenway Park in the background, the hometown Bruins scored a tying goal late in the third period and won in overtime, in true Red Sox "walk-off" fashion (nothing new to the Fenway Faithful). It was everything the NHL could have possibly asked for, and more.
As for the season itself, there is plenty of intrigue to be had, and even more questions yearning to be answered. With his Devils atop the Eastern Conference standings, will goaltending legend Martin Brodeur ride off into the sunset and conclude his career by hoisting Lord Stanley's Cup for a fourth time? Will this finally be the year that Joe Thornton and the Sharks shed their postseason woes and realize their lavish potential with a deep postseason run? Will Crosby's Penguins and Ovechkin's Capitals meet in the playoffs once again? Will Boston and Montreal add another chapter to their historic rivalry in the upcoming postseason? Will the young, unheralded, and unproven Avalanche be able to sustain their early season success (that
no one
saw coming, mind you)? Will Buffalo be able to capilatize on Ryan Miller's stellar goaltending and make some noise come playoff time? Will Anaheim get its act together and climb out of the Western Conference cellar (a place that a team of such talent has no business residing)? Will the Bruins use the momentum of their dramatic Winter Classic overtime victory to propel themselves into the upper echelon of the East? Only time will tell, but I will be glued to the televisio-er, um....internet (
damn you, NHL
) every step of the way.
College Basketball
Resurgence of the Blue-Bloods
That's right, loyal readers. With the college football season finally (yet unfortunately) coming to an end, we can now devote the proper attention to the glorious spectacle that is college basketball. And we sure are in for a dandy of a season. Throughout the country, traditional powers are establishing themselves as dominant forces that will surely have a say in how the madness concludes this spring. Thanks to rosters full of NBA talent, upper classmen locker room leaders, and highly touted freshmen making immediate impacts, these heavyweights will be tremendously exciting to watch throughout the season, and are setting the stage for some Ali/Frazier-like battles come March. Kansas and Texas -- the (current) consensus top two teams in the country -- will
battle it out for Big 12 and national supremacy in the regular season, Big 12 tournament, and possibly the NCAA tournament. Syracuse, West Virginia, and Villanova headline a devastatingly deep Big East field (which features other powers such as UConn and Georgetown) that will beat up on each other all year long, and then beat up on whatever poor teams are unfortunate enough to draw their names in the NCAA tournament bracket. Duke and North Carolina are once again the flagship teams in the ACC (but don't sleep on unheralded Georgia Tech and its immensely heralded and talented freshman, Derek Favors), proving to make their twice-annual match-ups the scintillating affairs that we have come to expect from these two Tobacco Road juggernauts. Purdue and Michigan State lead the charge in a surprisingly deep and strong Big Ten field, perhaps the most powerful array of teams (top to bottom) this conference has offered in the last decade. Moreover, Purdue (and Butler as well) aims to accomplish what Michigan State did last year -- reach the Final Four in their home state. This year's Final Four site (Lucas Oil Stadium in Indianapolis) is but a stone's throw from West Lafayette, so the Boilermakers (or Bulldogs) would surely draw a massive and raucous following should they make it to college basketball's grandest stage. And then there is Kentucky. In one offseason -- and with the help of amassing one of the most dominant recruiting classes these eyes have ever seen -- John Calipari has engineered a Phoenix-like rising from the ashes of this proud program. The Commonwealth was on the brink of a chaos after a calamitous two-year run with Billy Gillispie at the helm of their beloved Wildcats, but John Calipari's trademark charisma, swagger, and proven basketball acumen (with a little help from a guy by the name of John Wall, I suppose) has galvanized this proud program into a National Title contender, and one hell of a good watch for hoops fans -- not to mention quelled the incessant outcry from beleaguered UK fans languishing from the dreadfully disappointing Gillispie era. And as for John Wall, I have only this to say: watch every Kentucky game you can. This kid is special. He is potentially a once in a generation-type talent. He is a shoe-in for national player of the year, he is a lock for the number one pick in the upcoming NBA draft, and he is 19 years old. Watch him, appreciate his greatness, and thank me later. He is a gift from the basketball gods.
Meanwhile, other heralded freshman are taking the college basketball world by storm elsewhere. Kansas, the (current) consensus number one team in the Country, is frighteningly good. They have a proven senior leader at the point (Sherron Collins), an intimidating low-post presence (Cole Aldrich), front court depth (the Morris twins), and a talented x-factor who often gets lost in the shuffle (Tyshawn Taylor). The perfect storm of blue-chippers and role players for college basketball success and dominance. But the player that might have the largest say in whether Kansas claims its second NCAA Championship in the last three years is freshman swingman Xavier Henry. The much-ballyhooed recruit (initially headed to play for John Calipari at Memphis, but instead chose Kansas after Calipari was hired by Kentucky) could be the final piece to the puzzle that makes this Jayhawks club too deep and talented to take down in March. He possesses a smooth, old school game (reminiscent of fellow southpaw and former Arizona State standout James Harden, only with more athleticism) that perfectly compliments the wide array of scoring options that Kansas besieges its unfortunate opponents with. Along with Kentucky's John Wall and Demarcus Cousins, Texas' Avery Bradley, Georgia Tech's Dereck Favors, and Cincinnati's Lance Stephenson, Henry represents a wildly impressive freshman class that will likely define this season and unfortunately only grace the collegiate ranks for one memorable campaign before moving on to the NBA. Enjoy it while it lasts, hoops fans.
However, the dominance of these traditional powers does not preclude the upheaval and tumult that makes college basketball so special. Just this week, little known (understatement of the New Year) College of Charleston defeated ninth ranked and defending National Champion North Carolina in a stunning upset that will surely go down in college basketball lore. But needless to say, with the aforementioned traditional powers all proving to be dominant during the onset of this season, the possibility of these blue-bloods matching up in the NCAA tournament cannot be ignored. Can you imagine a Kansas-Kentucky-Duke-(insert Big East Team here) Final Four? Color me excited. And if Chandler Parson's 70 foot buzzer beater to defeat NC State this week (shown below) is any indication of what this season will have to offer as it wears on, we are in for one wild ride on the way to Indianapolis. Stay tuned, this should be fun.
Coming shortly: Part Two of my 2010 outlook.


As always, stay tuned and stay classy.